User Guide
One PASS allows you unlimited ride on the trains and buses operated by about 40 transport companies in Kansai. It is easy to make transfers and it offers many benefits. Check how to use it for a smoother transit!

How to use the KANSAI THRU PASS
*Described as 'KTP' herein.
Insert the KTP into the ticket gate or the ticket reader on the bus with the arrow on the front pointing forward.

*Some trains and buses may require you to present the KTP to an attendant.
*Insert the KTP slowly.

Once inserted, the day of travel and the name of the station where you will begin your travel will be printed on the back of the KTP.

*"平成30年" printed on the back means 2018. *One day is counted as the duration from the first train to the last train in a day (not for 24 hours from the time the first used.)

Insert your KTP in the ticket gate when exiting. Be sure to take your KTP with you once it is passed through.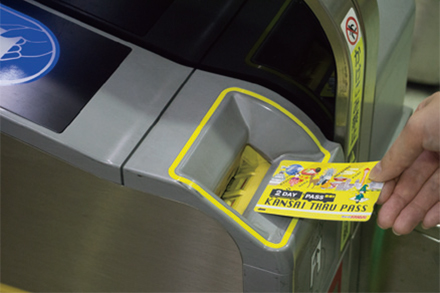 Subway and train ticket gate
Things to remember
when using the KTP
The KTP can be used on unconsecutive days during its period of validity (example: Mon, Wed and Fri in the case of a 3-day ticket).
Refer to the Area Map (back page) for routes that accept the KTP.
The KTP cannot be used on the JR line.
If travelling on the Limited Express train with reserved seating operated by Nankai, Kintetsu, Semboku Rapid or Keihan, you will need to purchase a separate limited express train ticket, a special carriage ticket or a reserved seating ticket.
The KTP cannot be reissued in case of loss.
Once you start using the KTP, refunds cannot be given for cancelled services.
If used illegally, the KTP will be invalidated and confiscated. Additional fares will be charged according to the rules of each operator.
Traveling outside the KTP's zone will incur additional fares. Please ask a member of station staff.
Stations where unusable
KANSAI THRU PASS
can be replaced
If the KTP becomes unusable due to magnetic strip failure during the journey, the following stations will reissue a new one. Please check with a member of station staff. (Stations are subject to change according to circumstances)
Osaka Metro

All stations

Osaka Monorail

Osaka Kuko Station

Kita-Osaka Kyuko Railway

Senri Chuo Station

Kyoto Municipal Subway

All subway stations, Bus Ticket Center in front of Kyoto Station

Kintetsu

Osaka Namba Station / Osaka Uehommachi Station / Tsuruhashi Station / Yamato Yagi Station / Kintetsu Nara Station / Kyoto Station / Tenri Station / Osaka Abenobashi Station

Keihan Electric Railway

Yodoyabashi Station / Kyobashi Station / Hirakatashi Station / Sanjo Station / Demachiyanagi Station

Kobe Municipal Subway

Sannomiya Station

Kobe Electric Railway

Minatogawa Station / Sanda Station

Nankai Electric Railway

Namba Station / Kishiwada Station / Wakayamashi Station / Kansai Airpotr Station / Sakai Higashi Station / Kawachi Nagano Station

Hankyu Railway

Umeda Station / Kobe-sannomiya Station / Kawaramachi Station

Hanshin Electric Railway

Umeda Station / Amagasaki Station / Koshien Station / Mikage Station / Kobe-sannomiya Station

Sanyo Electric Railway
Itayado Station / Sanyo Tarumi Station / Sanyo Akashi Station / Sanyo Himeji Station
Show the KTP and
take advantage of service on offer!
The KTP will not only allow you unlimited ride on the buses and trains, but it will allow you to receive various services by presenting it at almost 350 tourist sites.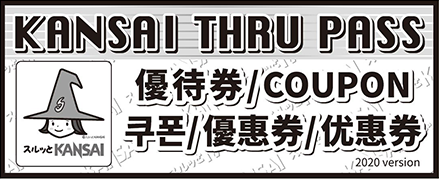 Coupon
Establishments displaying this mark in our website require you to present a coupon along with the KTP.
Information provided is subject to change without notice.
Benefits offered by establishments is only valid on the day you use the KTP.
A coupon is valid for one person per establishment. Separate each coupon for use.
Enquire the establishments offering benefits for details such as the hours of operation.
Fares listed are for adults unless they are specified otherwise.
Some establishments not listed on the brochure may offer benefits. Check Surutto KANSAI's website (https://www.surutto.com) for details.
Refunds for KANSAI THRU PASS
If you wish to get a refund, please ask at the point of purchase.
A handling charge may be applied.
*Refund will not be issued at stations.
Use the KANSAI THRU PASS to
go to Osaka from Kansai Airport!
KANSAI THRU PASS can be used when travelling to Osaka (Namba / Umeda) from Kansai International Airport.
It takes about 50 minutes to Namba on the Airport Express from Nankai Electric Railway Kansai-Airport Station, which is directly linked to the airport. If you buy a Limited Express ticket for an extra ¥510, you can reach Namba in 34 minutes on the Limited Express Rapi:t.
The high-speed boat, Kobe Bay Shuttle, which links Kansai International Airport with Kobe Airport in just 30 minutes, is convenient for going to Kobe (requires a separate fare, as it does not accept the KTP).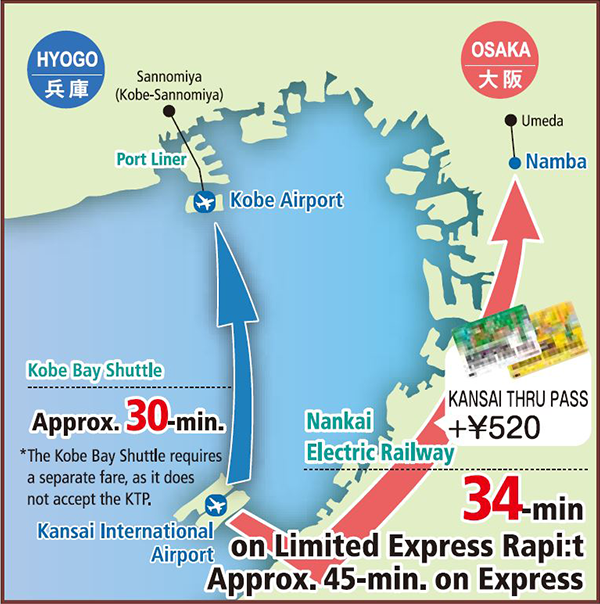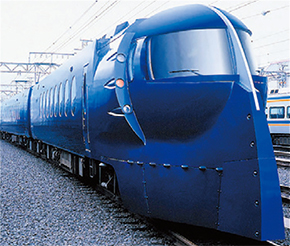 Limited Express Rapi:t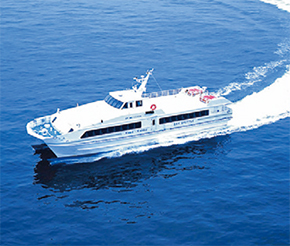 Kobe Bay Shuttle