KANSAI THRU PASS
This ticket enables you to ride on subways, private railways and buses throughout the Kansai district. As well as enabling you to tour Osaka, Kobe and Kyoto, it lets you visit Nara, Wakayama and Koyasan. Purchasing the economical KANSAI THRU PASS that comes in two types; 2-day and 3-day, will let you enjoy a more value-for-money holiday.
The Pass can be used on unconsecutive days during its period of validity (example: Mon, Wed and Fri in the case of a 3-day ticket)
Example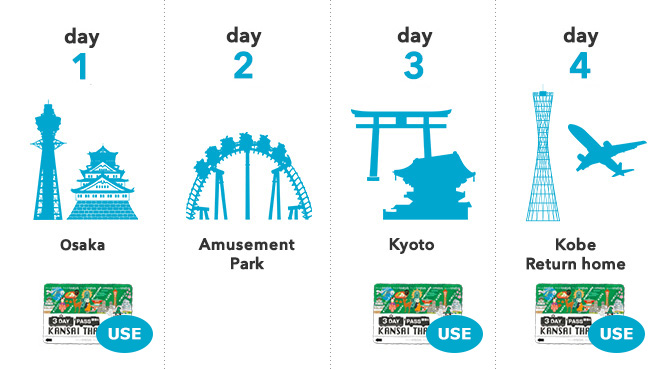 ❊One day is counted as the duration from the first train to the last train in a day. (Not 24 hours from the time when you purchase it.)
KANSAI THRU PASS – Such a deal!!
From Kyoto to Osaka, Kobe, Mt. Hiei and Himeji. Get on and off the train or bus bound for Wakayama, Nara and Koyasan as you like during the period of validity (Excluding JR lines. Check the map for the available trains and buses).
You can use the train or bus without going through the troublesome task of checking the complicated rate table to buy tickets and you won't need to buy another ticket every time you make connections.
You can benefit from complimentary discount promotions at 300 major tourist facilities along the railway lines.

Special Privileges
Don't miss the special promotions at tourist facilities along the railway lines available to the holders of the KANSAI THRU PASS.
It can be used from Kansai Airport Station on the Nankai Train after arriving at Kansai International Airport (The Express Rapi:t requires additional tariff).
Receive a free area map in English, Chinese, Korean language.
KANSAI THRU PASS Types and Prices
| Type of ticket | Adult | Child (Ages 6 to 12) |
| --- | --- | --- |
| 2day ticket | 4,000 yen | 2,000 yen |
| 3day ticket | 5,200 yen | 2,600 yen |
You get the following items when you buy KTP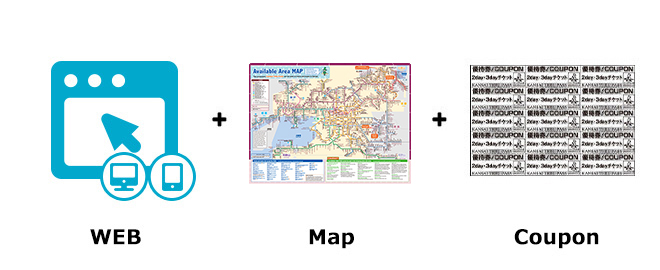 | | Sale period | Valid period |
| --- | --- | --- |
| 2017 Edition | April 1, 2017‐March 31,2018 | April 1, 2017‐May 31,2018 |
Who is eligible to purchase KANSAI THRU PASS
KANSAI THRU PASS is a special ticket available only for tourists visiting Japan for the purpose of sightseeing. You will need to meet one of the following requirements in purchasing a ticket.
A foreign tourist visiting Japan from abroad on a short stay entry status.
A Japanese national living abroad.
A person accompanying those who meet the requirements 1 and 2 above as their guide.
How to get KANSAI THRU PASS.....
It can be purchased from a travel agency overseas such as Korea,Taiwan,Hong Kong and Thailand
Where to buy KANSAI THRU PASS in Japan
* 2 pieces of tickets per person are available for purchase at max. (combination of each ticket is ok)
Buy the ticket from the following ticket offices in Japan.
(Access / Opening hours)
* You will be required to present your passport and fill out an application form when purchasing the ticket.
* When purchasing a child tickect, please present the child's passport.A chime sounds in time of passage of a ticket gate with a child ticket.
KANSAI THRU PASS is also available from the following hotels. (Tickets can be offered only for the guests staying overnigt at the following hotels.)
Osaka
Hotel New Hankyu Osaka

06-6372-5101

Sheraton Miyako Hotel Osaka

06-6773-1111

Fraser Residence Nankai Osaka

06-6635-7111

Osaka Castle Hotel

06-6942-2401

Hearton Hotel Shinsaibashi

06-6251-3711
Kobe
Kobe Portopia Hotel

078-302-1111
Notes for the use of KANSAI THRU PASS
The ticket is for one person only.
The ticket holder can use the trains and buses in the designated area during the period of validity.

* It cannot be used on JR lines, airport limousine bus or reserved seat buses. It may not be valid on some routes.

When using the ticket, insert it into the automatic ticket gate in the direction of the arrow printed on the ticket.
When using the reserved seat express train of the Nankai Electric Railway , Kinki Nippon Railway, Semboku Rapid please purchase a separate express ticket, special coach ticket and/or reserved seat ticket.
The ticket can be reissued at major stations if the magnetic strip fails to function during your journey.

*Please see below for details

Tickets will not be reissued when lost.
Refund for tickets can be issued at the point of purchase only if they have not been used (handling fee may apply).

* Only applicable when the ticket is still valid and all the coupons in the area map are unused.

Tickets will not be refunded for suspended services by a transportation company once the ticket has been used.
If the ticket is used illegally, it will be invalidated and collected, and additional fare will be charged, according to the regulations of each transportation company.
Separate fare will be required for journeys outside the valid zone. Please inquire the station staff.

* Please be advised that you may be required to present the back of your ticket on routes operated by some transportation companies.

Please do not bring the tickets close to the magnet (like a smartphone).
*Stations where unusable KANSAI THRU PASS can be replaced
If the KTP becomes unusable due to magnetic strip failure during the journey, the following stations will reissue a new one. Please check with a member of station staff.
(Stations are subject to change)
Please contact to the travel agent you purchased the ticket for the exchange or refund.
Osaka Metro

All stations

Osaka Monorail

Osaka Kuko Station

Kita-Osaka Kyuko Railway

Senri Chuo Station

Kyoto Municipal Subway

All subway stations, Bus Ticket Center in front of Kyoto Station

Kintetsu

Osaka Namba Station / Osaka Uehommachi Station / Tsuruhashi Station / Yamato Yagi Station / Kintetsu Nara Station / Kyoto Station / Tenri Station / Osaka Abenobashi Station

Keihan Electric Railway

Yodoyabashi Station / Kyobashi Station / Hirakatashi Station / Sanjo Station / Demachiyanagi Station
Kobe Municipal Subway

Sannomiya Station

Kobe Electric Railway

Minatogawa Station / Sanda Station

Nankai Electric Railway

Namba Station / Kishiwada Station / Wakayamashi Station / Kansai Airpotr Station / Sakai Higashi Station / Kawachi Nagano Station

Hankyu Railway

Umeda Station / Kobe-sannomiya Station / Kawaramachi Station

Hanshin Electric Railway

Umeda Station / Amagasaki Station / Koshien Station / Mikage Station / Kobe-sannomiya Station

Sanyo Electric Railway

Itayado Station / Sanyo Tarumi Station / Sanyo Akashi Station / Sanyo Himeji Station
Area Map
Check the map for areas where the KANSAI THRU PASS can be used. Please note that the pass cannot be used on some routes.(As of April 1,2017)
If picture is clicked, the detailed map of PDF form can be seen.
This map requires Adobe Reader
This is the area map of "KANSAI THRU PASS", and differs from usual "SURUTTO KANSAI" use area.
Available at Railway Bus Line.Not available at some Lines. Please confirm "Note!!"
EIZAN ELECTRIC RAILWAY*(partially)
Osaka Metro/OSAKA CITY BUS
OSAKA MONORAIL
KITA-OSAKA KYUKO RAILWAY
KYOTO MUNICIPAL SUBWAY/BUS
KINKI NIPPON RAILWAY (KINTETSU)*(partially)
KEIHAN ELECTRIC RAILWAY*(partially)
RANDEN (KEIFUKU RAILWAY)
KOBE RAPID TRANSIT
KOBE MUNICIPAL SUBWAY / BUS
KOBE ELECTRIC RAILWAY (SHINTETSU)
SANYO ELECTRIC RAILWAY
SEMBOKU RAPID RAILWAY
NANKAI ELECTRIC RAILWAY
NOSE RAILWAY
HANKYU RAILWAY
HANSHIN ELECTRIC RAILWAY
HIEIZAN SAKAMOTO CABLE
PORT LINER/ROKKO LINER
HOKUSHIN KYUKO RAILWAY
ITAMI CITY BUS
KYOTO BUS
KINTETSU BUS
KYOTO KEIHAN BUS
KEIHAN KYOTO KOTSU
KEIHAN BUS
KOBE CITY TRANSPORT PROMOTION
SANYO BUS
SHINTETSU BUS
TAKATSUKI CITY BUS
NANKAI WING BUS KANAOKA
NANKAI WING BUS NANBU
NANKAI BUS
NANKAI RINKAN BUS
HANKYU DEN-EN BUS*
HANKYU BUS*
HANSHIN BUS*(partially)
WAKAYAMA BUS
WAKAYAMA BUS NAGA
AMAGASAKI TRANSPORTATION SERVICE
*....When you use these lines, you fill date of use on the ticket's back cover in black oil pen and show it to the station staff.
Note!!
A LIMOUSIN BUS, HIGHWAY BUS, MIDNIGHT EXPRESS BUS

Not available.

The USJ SHUTTLE BUS

Not available

KINTETSU / NANKAI RAILWAY DESIGNATED SEAT EXPRESS

Additional charge when in designated seat in KINTETSU / NANKAI RAILWAY / Semboku Rapid
*Please note that the pass cannot be used on some routes.